Now that the election has been decided, let's take a look at how much power a President has over the economy, and what you can do about it all.
Power Has Limits
First, let's refresh our knowledge about what the President can and cannot do when it comes to the economy. Presidents are usually awarded praise or denounced as failures depending on the state of the economy during their tenure in the White House. But the economy is a complex, many-faceted system, and the President has more influence over some aspects of the economy than others. 
While the stock market and the economy are not the same thing, markets can reflect certain elements of the state of the economy. In reality, the President doesn't truly have as much control over the stock market as many think (although the choices they make can certainly have short-term effects on investor confidence and market performance, particularly on certain securities and sectors). 
For example, history shows us that the stock market performance at the beginning or end of a President's term in office isn't necessarily indicative of their choices. It may have more to do with the naturally occurring cyclical nature of market performance, socio-political changes, or a myriad of other factors which can impact the market's performance. Research tells us that there is no trend driving the market returns of a particular political party, and the President probably shouldn't receive much credit or blame for stock market performance during their term, as evidenced below in the hypothetical growth of $1 invested in the S&P 500 since January 1926 until December 2019.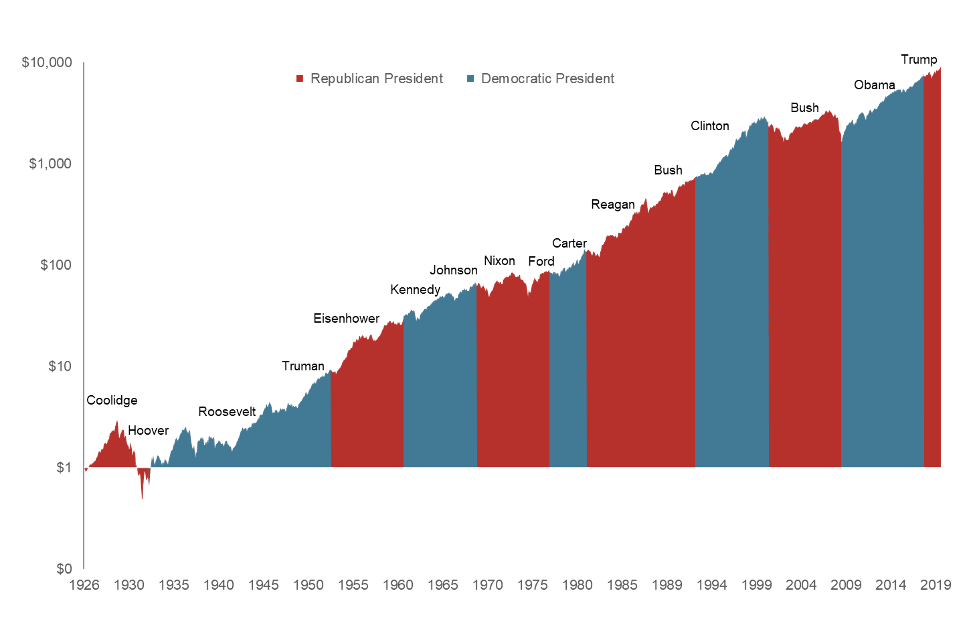 As you can see from the chart above, the party in power didn't have as much impact on the markets as events that occurred like the Great Depression, World War II, the tech boom in the late 1990s followed by the crash in 2001, and the Great Recession in 2008 followed by the recovery. 
The President does influence proposing fiscal policy (i.e., tax law) and regulatory policy, appointing Federal Reserve governors, and responding to external shocks and crises. But do you see anything in common with these things? That's right—you don't have any control over them. But you do have control over some very important pieces of your financial puzzle, pieces that matter more than who wins an election. 
Control What You Can
As much as we wish we could, we can't predict the future. We don't know definitively who will be President, what policies they'll be able to push through Congress, or what the stock market will do in reaction to unexpected events. The election is important, but with a solid financial plan in place, the election is a "non-event" when it comes to your finances. 
Here's what you can focus on amid everything going on in our world:
Your goals. You set your goals for a reason. Remind yourself of the "why" behind them and remember what's most important to you. Don't let the noise of the election derail what you are working toward, and don't abandon your plan just because you haven't lived through times like these before. 
Your perspective. The markets are always changing. If you check your portfolio performance every time there's a shift in the markets, you will end up feeling overwhelmed and stressed. If you maintain a long-term perspective and stay disciplined in your approach, you can feel confident in your plan. 
Your choices. One of the most important rules in investing is to refrain from making emotional decisions. Multiple studies have analyzed how our emotions affect our investing results, especially when we chase above-average returns. Instead of panicking, follow the guidance of your financial professional. This is just one blip of many that will come on your journey of pursuing your life goals and your advisor has the expertise and experience to walk you through it. 
How's Your Plan?
How are you doing right now? Are you worried? Or are you sleeping well at night because you've done the work of carefully crafting a plan for your financial future? No matter who comes out of this election as the winner or what happens between now and January, a solid financial plan will carry you through. If you don't have a financial plan built for your goals and your life or you aren't sure if your current plan can weather the storms of life, our team at Infiniti Wealth Management can help. Call our office at 845-278-8638 or send us a message to set up a complimentary consultation. You have enough things to worry about right now; your portfolio should not be one of them.
About Mike
Michael Durante is a founder, Certified Financial Planner™ (CFP®), and Certified Divorce Financial Analyst™ (CDFA®) at Infiniti Wealth Management, an independent, fee-only financial advisory firm. With over 25 years of experience, Mike specializes in serving women who are going through a life transition, whether that's a divorce or the death of a spouse, as well as pre-retiree and retiree couples. He is passionate about helping his clients develop a personalized financial plan based on their values and goals so they enter retirement with confidence and peace of mind. Mike has both a bachelor's degree in business administration and an MBA from Pace University. When he's not working, Mike loves spending time outdoors hiking, biking, walking, golfing, campfires, the beach and doing yard work, as well as spending time with family and friends. Mike also enjoys to read, travel, and check out local restaurants and events. To learn more about Mike, connect with him on LinkedIn.
Posted:
November 23, 2020 - Michael Durante, CFP®, CDFA®